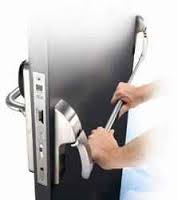 Are you planning to have a panic bar mounted in Las Vegas? Has the panic bar on one of your doors gone bad and in need of immediate replacement? Whatever the problem is with the panic bars in your building, you need the services of an experienced panic bar specialist to help you find a lasting solution to the problem. At Panic Bars Las Vegas, our company has extensive experience with installing and replacing panic bars in Las Vegas. We supply superior panic bar installation services for many public and commercial buildings at economical and highly affordable prices. If you are the caretaker or facility manager of a commercial build searching for where to find bulk discounts on panic bar installation, maintenance and repair services for your building—then  Panic Bars Las Vegas is the perfect company to call on. Contact us immediately on (702) 577-2941 to hire our unique services so we can help you save a ton of money on your panic bar needs.
Emergency exit devices such as panic bars are mandatory for all commercial buildings in Las Vegas. Panic bars are typically installed on exit doors to allow fast and easy exiting from commercial buildings. Irrespective of the brand of panic bar you or the locksmith company you have hired chooses to install, all Panic bars are meant to provide a continuous and clear exit path leading to a safe location. They are commonly found in commercial buildings like shopping malls, hospitals, restaurants, city buildings, cinemas and schools. Panic bars require no prior experience or expertise to use–an attribute that readily comes in handy during panic situation when many people find it difficult to think clearly. It is therefore imperative that every facility manager or owner of a commercial building should have a panic bar properly installed by a professional locksmith company with a qualified panic bar installation experts on their team.
From our years of experience carrying out panic bar installation services on commercial buildings in Las Vegas, we know for a fact that every company expects a unique level of professionalism when it comes to installing safety devices on their buildings. Our commercial locksmith technicians and Panic bars installation specialist are proficient in delivering first class service to our customers by using the right safety products for their office or commercial building. Whenever you need a Panic bars installation service in Las Vegas done on your building; let the certified professionals at Panic Bars Las Vegas handle your request without delay.
At Panic Bars Las Vegas, our legally bonded, licensed and highly skilled panic bar installation technicians are available 24 hours a day and 7 days a week to manage all of your commercial security needs. From panic bars installation to electronic access control systems, our technicians are the best in town. We are absolutely certain that our technicians will provide you with the best panic bar services for the modest fee in Las Vegas. You can reach us through our phone line on (702) 577-2941 for a free estimate on our low priced panic bar installation services in Las Vegas or any other commercial locksmith you require.