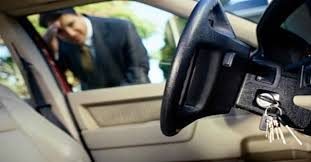 Car Lockout is extremely frustrating.
So you got locked out of your car and missed that all important meeting at work. Well, don't you worry, because Las Vegas Locksmith will get you back in the driver's seat fast. Lockouts are a tough and frustrating experience that leaves you feeling alone and desolate. With the right help at the right time, you will get unstuck and back to your life with no delays. Las Vegas Locksmith sends highly qualified technicians to your location who are prepared to deliver fast car lockout service to you in under 20 minutes.
Avoid further damaging your car
Some people lose their keys in their car, while others find their keys dangling in the ignition of a closed car. This can be especially frustrating when you have important things to do that cannot wait. Therefore, the last thing you want to do is break the window or damage your car in any way. It will only wrack up your costs and make it worse. Additionally, what if your key breaks when you try to unlock your door? That's why it only makes sense to leave it to the experts who are fully trained to handle these situations. So who you need right now is a Locksmith.
Las Vegas Locksmith is here to help
Should you ever face such a problem, don't hesitate to give Las Vegas Locksmith a ring. Our customer service reps will receive your call and let you know just how much we can do for you. After you decide on a service, we will send someone to your location with the necessary tools to assist you. Our technicians will be there in 20 minutes or less using their expert knowledge of the local area. So whether it's a key or an application issue, we will fix it; we are prepared for anything. If you need any more services we perform, check out our list here:
Our car lockout services:
Broken key extraction
Key broke in trunk lock
Car Remote not working
Broken car key
Key stuck in door handle
Car Door not opening
Missing car lock