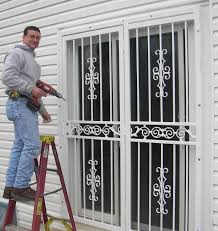 Most people think of technology such as cameras for recording, motion detectors, and alarms when they think of home security. These are good choices to implement in home security systems, however the most important security component is often forgotten. Home doors are the first level of protection against break-ins and should be carefully considered. The following are helpful hints for making your doors secure:
Ensure that your doors always stay locked. Just as when you away, when you are at home intruders can find a way to enter your house. Always make it a habit to check that your doors are locked in order to reduce the chance that someone could break in.
When buying a new door, choose one that is made of a sturdy material that will not easily break. The best choices are metallic or solid wood doors. Doors with panels made of glass require double-keyed locks so that a robber cannot simply reach through the glass to open the door.
Make sure that all entry doors are protected by deadbolts and make sure to always lock the doorknobs. Garage doors and outside buildings should also have deadbolts. If someone managed to break into your garage this would put the rest of your home in damage as well. Therefore you should check that the door next to the garage is double-locked.
It is recommended to place bars over entry doors with glass panels. This can help reduce the risk that a burglar can break in to your house simply by shattering the glass.
Concerning doors that slide, these should always be locked as well as barred for extra security. Sliding doors on upper floors can be broken into through fire escapes. You should make sure that the door cannot be lifted up off its track, as well.
Maintain strong locks on garages, gates and sheds in addition to secure entry doors so that there is no way for a criminal to sneak in. This will make sure that they can't think of any creative way to break in.
There are various matters that need to be considered when it comes to home security issues. Starting with secure doors will immediately contribute to the security of your home. Having a high-security door and lock system for your house can create is the first line of defense. Would-be criminals will give up when they encounter high-security locks instead of doing damage and stealing.
Should Your Home Security Systems Be Monitored?
Home security systems can be quite expensive to homeowners. There are various options to choose from. Each of these options has its own unique benefits. Companies also sell monitoring service in addition to security system lock installation. This is at a monthly cost. Getting a monitor system is well worth the cost because it comes with many benefits. Don't consider it an unnecessary expense, home monitoring is in fact a very useful investment.
Benefits of a Monitored System
When you choose to have your monitored you gain protection for your family 24 hours every day of the week. When an emergency situation occurs help with automatically arrive or can be called simply by pressing a button. Monitoring system features vary depending on the system but include:
Fire department calls and smoke alarm alerts
Calls made to police when burglar alarm is activated or panic button is pressed
Emergency medical help calls activated by alarm keypad or panic buttons worn
Carbon monoxide alerts which are sent to EMS if requested
Video surveillance, theft deterrence and other security monitoring that are already integrated into the security system.
Who Should Have a Monitoring System
The ideal is that anyone who has a home security system in their home should also have a monitoring method deployed in order to maximize the effectiveness of their system. Some companies and homes are in need of a monitoring system more than others. The elderly have a special need for monitoring systems because it is more difficult for them to call for help when they need it. Those with young children should seriously consider having active monitoring installed as part of their security system to boost their safety. People who often travel or work abroad, spending lots of time away from home should also considering getting a monitoring system. Monitoring is like having a second set of eyes protecting you and your property and could save a life in the case of a serious emergency.
If you are consider having a monitoring system installed as part of your home security system, be sure to investigate this option. The extra expense may seem unnecessary but having the extra security when you need it will certainly be worth the expense for your safety. Most people would say that keeping their family and home safe is worth a couple extra bucks a month.
Locksmith Las Vegas (702) 577-2941