Home Security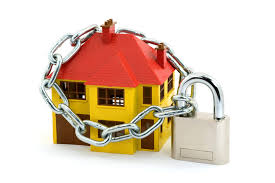 It is a homeowner's responsibility to know how secure his home is. If the proper steps are not implemented to prevent burglary it can become an irreversible mistake. Follow these steps to stay safe now, before it's too late.
Exterior Security
Make sure all outdoor sheds, garages, and other entrances are secure after you leave or enter. Make sure you are using high-quality locks.
Lawn mowers and other expensive machinery should be securely locked away.
All garage doors much be checked to make sure they are locked when you leave.
Any connecting doors from the garage to the house should be secured with a lock and deadbolt for additional safety.
It's best if the lock securing your garage door is attached to the floor.
Always lock your car door when you come home from work.
Bikes and motorbikes should be safely locked up either in the garage or house.
Secure and lock all ladders away. Make sure that no one can access the drainpipe to climb up it.
Make sure your bushes and shrubs are all well-trimmed so that no one has the opportunity to hide behind them.
It is recommended to get floodlighting outside for security purposes. These need to motion-triggered.
Turn on the lights outside in the evening.
You should install a placard that makes your address clear to depict. This will help EMS to find you quickly should there be any emergency.
Try to imagine to yourself that you were locked out. How easily could you break into the house? You should fix any weak points that would allow a burglar to enter.
Exterior Door Security
External doors are recommended to be made from hardwood or metal. If there are glass panels they need to be reinforced. If you get a peephole you can see who's knocking without opening the door.
The door frame should be fitted with a deadbolt lock as well as a doorknob lock.
Always make sure to lock the outside doors, even if you are only going out for a short period of time. Special caution should be taken at night.
Instead of hiding spare keys in a flowerpot or under the doormat, give them to a trustworthy neighbor to hold on to.
Window Security
Check that none of the window frames are rotting and if they are then make sure to replace them.
Every window in the home should be secured with a lock that has a high level of security.
If you windows could be smashed to get in, consider adding metal bars for extra protection.
General Security around the Home
It's a good idea to set your lamps up on timers. This will make a potential criminal think that you are at home.
All of your valuables should either be kept in a high-security safe in the home or in the bank.
Firearms should be security locked away in their own cupboard. The cupboard needs to have a trigger guard lock to protect its contents.
Your inventory needs to always be kept up to date. You can take pictures of all of your valuable possessions and burn them onto a DVD. The DVD can be kept in a safety deposit box and accessed at the bank.
You should keep a book of emergency phone numbers near your phone.
You and your family need to be prepared for an emergency situation such as a fire. Make sure everyone is aware of the correct evacuation procedure.
Let you neighbors know that you are going away so that they can keep an eye out for suspicious activity.
Mark high value items such as laptops, computers, and TV's with a noticeable mark that will be recognized by police.
You should cancel all delivery services when you go on vacation.
Make sure to activate the alarm system every time you leave the house.
Locksmith Las Vegas (702) 577-2941